An effective packaging design can be a powerful tool for wine and spirits brands looking to stand out in an increasingly crowded market. Whether custom or customized stock, we can all agree that packaging is an essential part of what enables a product to be successful, as it communicates the brand's message and quality to potential customers. It is often the first interaction a customer has with a brand, making it an essential part of marketing and sales. Custom packaging design can elevate a product, grabbing the attention of potential customers, making a statement and engaging current consumers.
For wine and spirits brands, packaging can be used to make a statement and enhance the customer experience. Using specialized materials and custom shapes and sizes, brands are able to create visually stunning packaging that elevates the product and catches the eye of potential customers on the shelf. There are endless possibilities for custom shapes and sizes for bottles, caps, boxes and labels, which are essential components of an effective custom packaging design.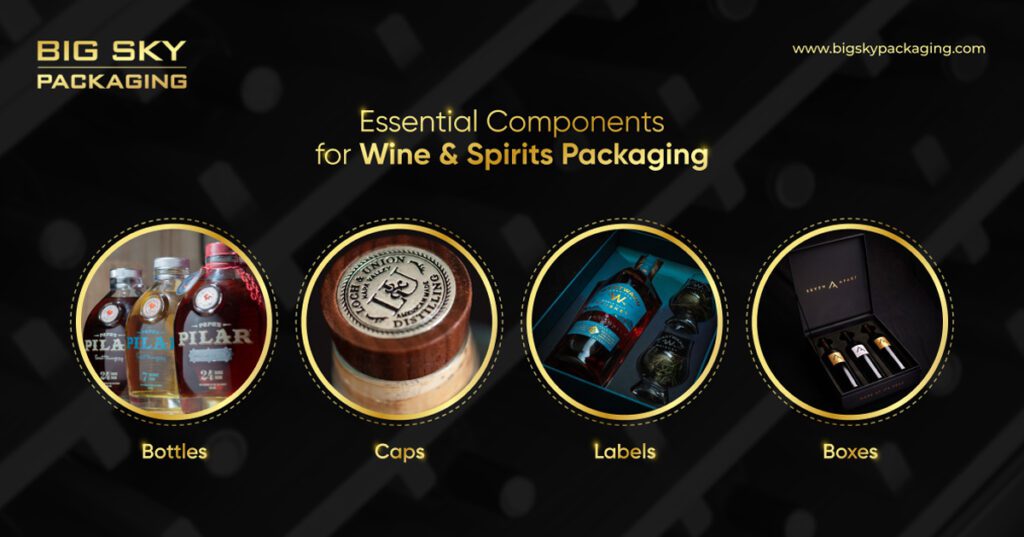 Boxes not only keep the product safe in transit, but can be used to create a unique customer experience with the added convenience of being able to store the product in a box. Creating custom boxes with an "unboxing" experience give each customer a little extra with each opening. Think of opening an iPhone and how you feel opening a $1,000 phone….
Labels are a critical part of making a statement and reinforce the brand message. Labels can be customized through color, texture and paper type to grab the attention of potential customers. The right label design can also help to ensure that product information is conveyed clearly and concisely.
Caps are another important component of custom packaging for wine and spirits brands. Caps can be designed to be stylish and eye-catching, but must also effectively keep the contents secure and alert customers to the seal intact. Specialized printing on the cap can also be used to present additional product information.
Bottles are the first element of wine and spirits packaging that customers see, so a bottle must make an unforgettable impression on potential customers. Unique shapes and sizes help customers identify the brand and set it apart from the competition. Specialized materials, such as recycled, biodegradable and eco-friendly materials, can also be used to give the product an environmentally-friendly element that resonates with consumers.
The experience makes the cost more palatable! Custom packaging is essential for elevating wine and spirits products and attracting customers in the market. By using unique shapes and sizes, specialized materials and custom printing, brands can create packaging that stands out and makes a memorable impression. Through effective custom packaging design, brands can set themselves apart and make sure their product is noticed on the shelf.