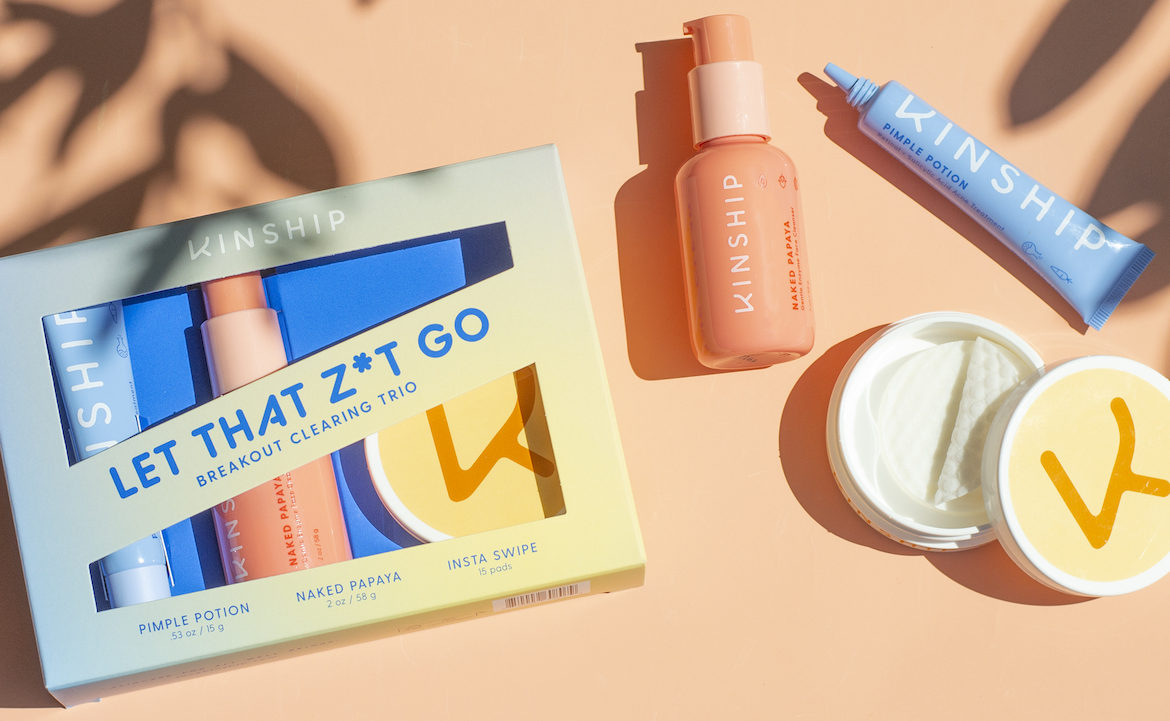 KINSHIP | ULTA BEAUTY'S RECENT ADDITION
The acne-focused, clean skin-care brand launches first on Ulta.com, on Wednesday, and in 400 stores the week of August 9. It will be part of Ulta's Sparked at Ulta Beauty program for indie beauty startups. Kinship will also be part of Ulta's new Conscious Beauty program launching in October, which will spotlight brands that are sustainable, clean, vegan, cruelty-free, and philanthropic. Expansion into Ulta is an opportunity for Kinship to reach a Gen-Z audience beyond its DTC sites shoppers. A 2019 survey of Gen-Z consumers by Piper Jaffray found that Ulta was the No. 1 beauty shopping destination for teens, selected as the top choice by 38% of respondents.
Kinship's main sales channel to date has been DTC e-commerce, which grew by 400% in the first quarter of 2020. It currently also distributes to Credo Beauty and expects Ulta to account for approximately 30% of total sales over the next year.
"Clean beauty is not a niche market anymore," she said. "It's here to stay. I think beauty has embraced the idea of clean, and now it's just how we define 'clean' going forward."
"If you look at Kinship, they're coming in with a sweet spot, in terms of the pricing," said Arnaudo. Other brands in Ulta's assortment at this Gen Z-friendly price point include Morphe, Juvia's Place and Mario Badescu; however, none of these brands are clean.
Ulta does stock a range of clean beauty brands on its site including Juice Beauty, Indie Lee and Follain, but has lagged in its designation behind Sephora and Target. The introduction of its Conscious Beauty section will inaugurate the first time the category is highlighted separately on its site and in stores. Brands in the clean category have already been seeing "double-digit" growth, said Arnaudo. The launch of Conscious Beauty will include a site landing page and an in-store endcap display, in all of Ulta's physical stores, of a rotating group of brands. This will be more expansive than Ulta's upcoming Credo Beauty partnership, which will feature endcap displays in a select group of 100 stores. The Credo partnership will feature eight brands that are sold at Credo.
Arnaudo says the Conscious Beauty program, like Sparked, is key to reaching Gen Z. She pointed out that "nine out of 10 Gen Zers will buy clean beauty in the next year, and we know that six out of 10 people are interested in purchasing clean beauty."
"We know that the Gen-Z audience is very aware of what's happening in the world," she said. "We know that they care about clean ingredients, and we know they care about transparency and cruelty-free. Vegan is very important to them; sustainable packaging is important to them — [they support] brands that are doing good in the world."