Folding cartons are an effective and increasingly popular packaging solution for beauty, fragrance, personal care, and hair care products. They provide boutique and global businesses with an economical packaging option and offer an efficient, environmental-friendly way to get products safely to their destination. The process of producing folding cartons is surprisingly complex and involves several stages.
What are the benefits of folding cartons?
The use of folding cartons provides companies with multiple benefits. Folding cartons are more affordable than other more rigid packaging throughout their lifecycle, from production to disposal. As an added bonus, they are lightweight and help to reduce shipping costs, making them a great all-around choice for companies on a budget. They also offer great protection for fragile items and are easily customized to reflect the product's branding. Folding cartons have become the go-to packaging solution for beauty, fragrance, personal care, and hair care products. They're cost-effective and efficient, and their lightweight construction helps to reduce shipping costs. They offer great protection for fragile items and can be easily customized to reflect the branding of the product. All in all, folding cartons are an excellent choice for companies looking to package their products in an affordable and environmentally friendly way.
Which folding carton production process is right for my project?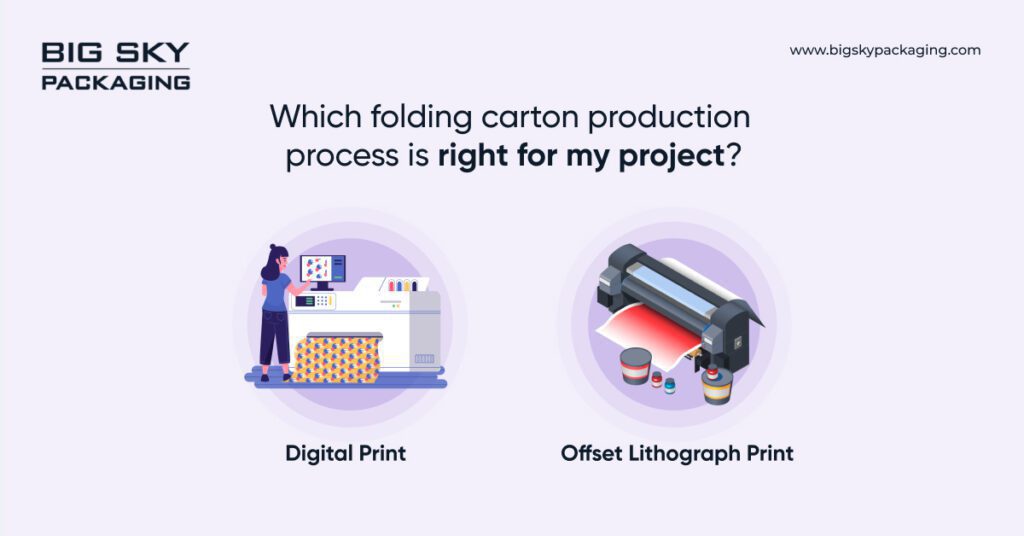 1. Digital Print
Digitally printed folding cartons are produced primarily through digital printing processes such as digital inkjet, laser printing, toner transfer, etc. which offer convenience and short lead times with less waste. Digital printing allows for faster fabrication and customizing of design, and the highly detailed images that can be printed on paperboard short run production. Additionally, digital printing also allows for shorter setup times and on-demand printing, which saves costs on printing.
2. Offset Lithograph Print
On the other hand, traditional offset lithograph is a printing process that involves transferring text and image onto paper using inks, plates, and a printing press. Offset lithograph is the most common method of printing used for both small and large runs, because it offers flexibility to produce a large number of prints at a lower cost. The process is slow and labor intensive, and requires approved plates to be made before runs begin.
How to get started with your folding carton project?
First, a supplier receives a print-ready artwork and prepares the printing plates for a standard offset lithographic press. For digital printing customer artwork is uploaded into a program specific to the digital printer. The artwork is printed onto large sheets of paper stock that is usually made of a blend of sustainable wood fibers and coated with food-safe barrier coatings. The printed sheets are then ready to be cut and scored into folding carton shapes. Scoring involves pressing through the paper several times to create precise folds without leaving a crease, which allows the carton to open and close smoothly. After the shapes have been cut, they are glued together and stacked into blank cartons. Once the blank cartons are ready, they move to the finishing stage. Different processes may be used based on the specific product requirements, some of which include varnishing, die-cutting, lamination or hot foil stamping. This is also the point where the cartons are filled with the product and sealed to ensure maximum protection.
What should brands consider when packaging beauty, fragrance, personal care and hair care in paper folding cartons?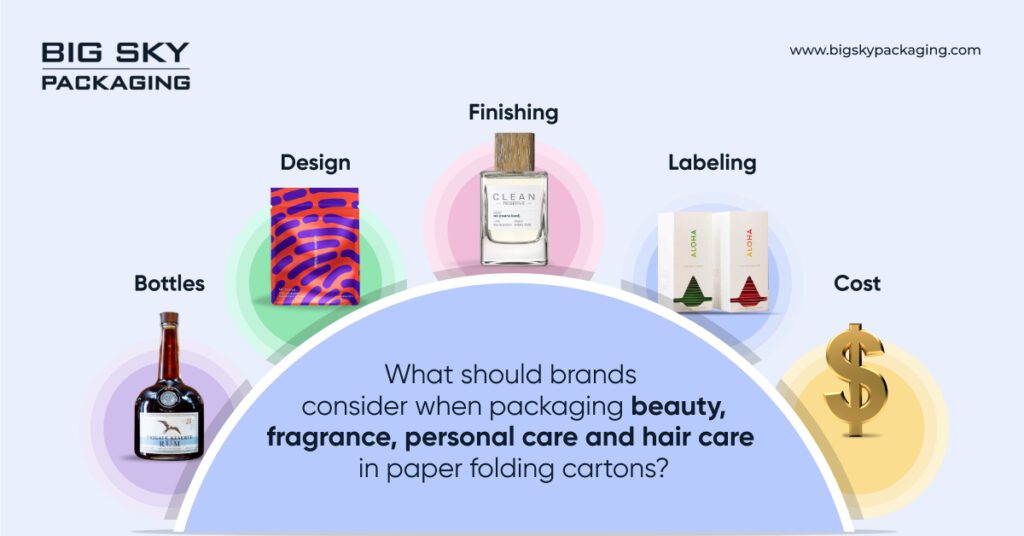 1. Material: Consider the type of material that is most appropriate for the product packaging, ensuring that it has the durability to protect from any outside elements that may damage the product packaging. Consider fully utilizing the material's barrier properties to retain and maintain the product quality for a longer duration. When applicable choose recyclable and reusable packaging materials.
2. Design: Make sure that the design of the paper folding carton enhances the visual appeal and convenience of the product. Keep in mind that the product must be seen and create a shelf presence. Choose a design that will attract the intended audience for the product.
3. Finishing: Finishing is key for showcasing the product's quality and strength. Use sparkle, vivid colors and special effects that will play off the product's print. Consider specialty finishes, such as embossing, debossing, varnishing, and foil stamping which will make the product stand out amongst its competitors.
4. Labeling: Ensure that labels used to identify the product are easily attached to the paper folding carton. Tamper-proof and tamper-resistant labels may be an important consideration, depending on the nature of the product.
5. Cost: Compare supplier costs and identify the most cost-effective paper folding carton that meets the brand's requirements. Consider significant savings over time if multiple packaging elements are combined in one production unit.