In a world where first impressions make or break the success of a brand, there exists a group of unsung heroes whose expertise shapes our perceptions before we even lay eyes on a product. Here we are talking about the packaging engineers with all their engineering and manufacturing skills behind every carefully packaged product you've ever held.
Picture this: You walk into a store, seeking that perfect product, and your eyes hold at this uniquely packed product. It is what packaging engineers, or we should say packaging magicians do. They ensure that the packaging not only entices the eye but also serves as a functional package for the treasures within.
It's time to unravel the hidden world of packaging engineers, exploring the breadth of their expertise, their packaging engineering and manufacturing skills, and who should "must-reach" them.
Let us dive into the captivating world of packaging engineering.
Who are Packaging Engineers?
A packaging engineer is a leading expert who owns a diverse skill set that combines packaging design, engineering, production management, materials knowledge, and manufacturing expertise. They are specialists who are seasoned in creating innovative, functional, and cost-effective packaging solutions.
Professionals work closely with clients to comprehend their specific needs, including product characteristics, branding, logistics, and sustainability plans. They use this information to design packaging that meets these criteria while ensuring product protection and compliance with regulations and deliver end-to-end packaging solutions that align with business leaders' objectives.
About Packaging Engineering
Package engineering isn't just about designing an attractive exterior for products; it's an art that harmonizes protection, appeal, and sustainability. It involves the meticulous selection of materials, the strategic consideration of structural integrity, and the amalgamation of aesthetics that captivate the senses.
Not only that, as a part of packaging engineering, experts ensure safe passage for products. It's a symphony where the rhythm of design aligns seamlessly with the practicality of storage and transportation. From cushioning fragile contents to optimizing space for efficiency, package engineers sculpt solutions that enhance user experience while minimizing waste.
Packaging Engineers Take Care Of:
Technical Development
Skilled packaging engineers believe in delivering the best possible packaging solutions to clients. They follow a rigorous technical development process, ensuring that every aspect of the packaging design and functionality is thoroughly considered. At BIG SKY PACKAGING, we prioritize technical excellence to meet your specific packaging needs while implementing innovative manufacturing techniques.
Material Evaluation
Another vital and mostly overlooked aspect of packaging engineering is, Packaging experts choose the right materials for your packaging and understand that it is crucial for product protection, branding, and sustainability. Experts conduct extensive material evaluations, considering factors such as durability, aesthetics, eco-friendliness, and compatibility with your product. By carefully analyzing various material options, we ensure that your packaging not only looks great but also delivers optimal performance and aligns with your sustainability goals.
Cost Analysis
Experts realize the importance of cost-effectiveness in the packaging industry. They perform wide cost analyses, bringing into account factors such as material costs, volume requirements as well as production methods. By optimizing the packaging design and production processes, we aim to offer you cost-efficient solutions without compromising on quality or functionality.
Production Management
Your packaging partner takes pride in our meticulous production management. Yes, the experienced team oversees every stage of the production process, ensuring seamless coordination and quality control. From procurement to manufacturing and delivery, we at BIG SKY PACKAGING prioritize efficient production management to meet your timelines, maintain consistent quality standards, and ensure that your packaging is delivered on time, every time.
By following these core processes, packaging engineers aim to deliver exceptional packaging solutions that meet your unique requirements, exceed your expectations, and contribute to the success of your business.

Why Should You Work with a Packaging Engineer?
Collaborating with a packaging engineer offers numerous advantages for business leaders. Firstly, their expertise ensures that packaging is optimized for product protection and transportation efficiency, reducing the risk of damage during storage and delivery. Secondly, packaging engineers stay up-to-date with industry trends, innovations, and sustainability practices. By partnering with them, business leaders can access the latest packaging materials, technologies, and eco-friendly solutions that align with their objectives.
Additionally, working with packaging professionals provides a fresh perspective and creative input, resulting in unique and eye-catching packaging designs that distinguish business businesses from competitors. They comprehend the significance of branding and can comprise it into the packaging, improving the overall customer experience and brand recognition.
What to Consider When Choosing a Packaging Engineer?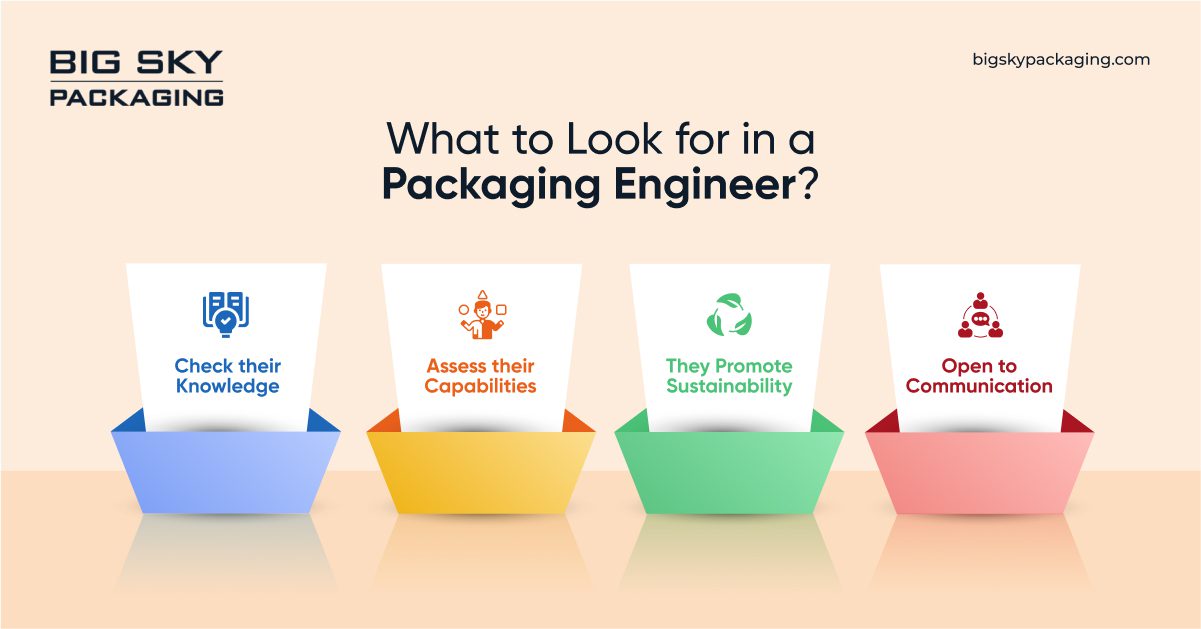 When selecting a packaging engineer, several factors should be considered.
– Check their Knowledge
Evaluate their experience and track record in the industry. Look for their expertise in handling similar products or industries, as this ensures they have the necessary knowledge and understanding of your specific packaging requirements.
– Assess their Capabilities
A reputable packaging partner should have a well-managed supply chain to ensure timely delivery and consistent product quality.
– They Promote Sustainability
The most important point to consider is what they offer. Whether they are committed to sustainability or not. In today's eco-conscious world, working with a packaging engineer that prioritizes sustainability is crucial. Inquire about their use of environmentally friendly materials, recycling initiatives, and commitment to reducing waste.
– Open to Communication
Communication and collaboration are vital. Choose a packaging partner that values open communication, actively engages with your team, and listens to your requirements and feedback. A collaborative approach fosters a strong partnership and ensures that the packaging solution aligns with your business goals.
Who Should Reach Packaging Engineers?
Are you ready to make your products shine on the shelf too with spectacular packaging, a team of packaging engineers is all you need. They, being seasoned in the industry, know how to utilize their packaging engineering and manufacturing skills to make any product look appealing, eye-catching, and functional at the same time.
They can even recommend what is best for your brand whether eco-friendly packaging or just customized solutions based on your target audience.
Leverage the Knowledge of Packaging Engineers…
Packaging engineers bring specialized expertise to the table, making them invaluable partners for business leaders seeking optimized packaging solutions. By understanding their role, recognizing the benefits of collaboration, and selecting the right packaging partner, businesses can achieve efficient, innovative, and sustainable packaging solutions that enhance their brand image and customer satisfaction.
We Are Ready To Help!
BIG SKY PACKAGING houses a seasoned team of packaging experts offering both packaging and manufacturing solutions for years. Whether it's revamping your packaging design or starting a new one, our expert team's ingenuity and resourcefulness guarantee cost savings that line your pockets and business goals.

Let Us Optimize Your Packaging Strategy!