Steve Jobs once said, "Packaging can be theater, it can create a story." It says how you need exceptional packaging for your brand. Begin by reaching out to Packaging Engineers! Let's learn how they can assist…
Imagine you have just launched a new product line that you've poured months of time and money into developing. But what if the packaging is not ready for your products by the launch date?
Well, developing effective packaging is not a simple matter. It requires expertise, creativity, and attention to detail. And that's where packaging engineers come in.
Packaging engineers, being experts, can help your business create packaging solutions that are tailor-made for your products, your brand, and your customers.
They can analyze your shipping needs, evaluate materials and design options, and optimize your packaging for maximum protection, sustainability, and cost-efficiency. In short, they can help you avoid the nightmare scenario of damaged goods and unhappy customers. So if you're serious about protecting your products, your reputation, and your bottom line, it's time to consider why you need a packaging engineer.
How Do Packaging Engineers Help?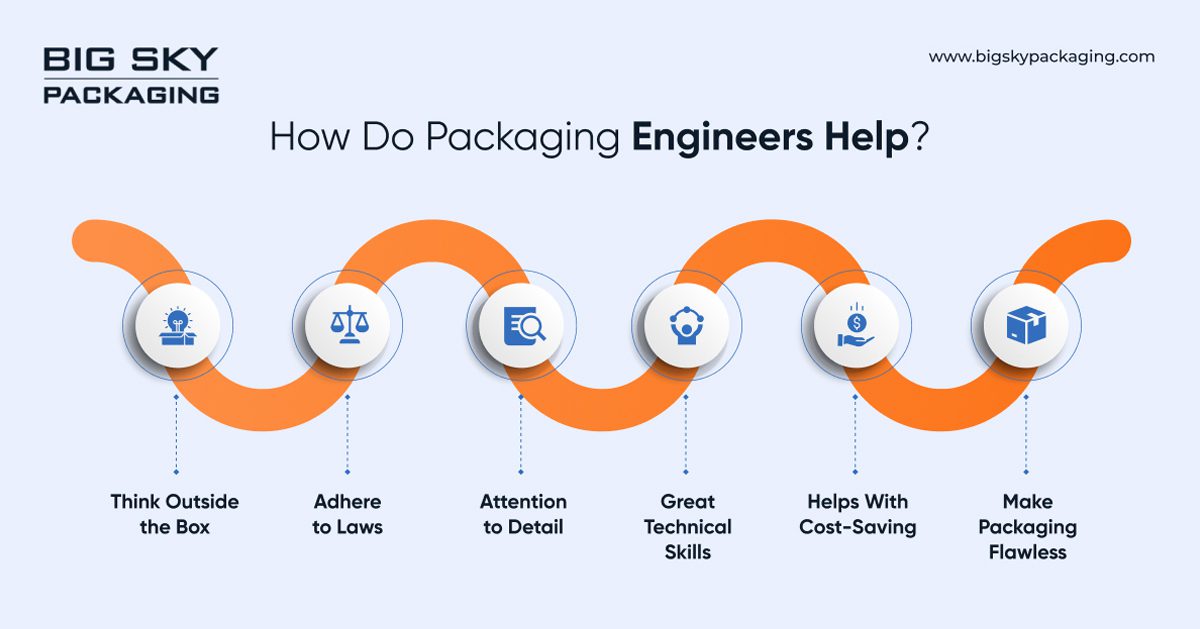 1. Ability to Think Outside the Box!
A right Packaging Engineer is always able to think differently to bring innovative packaging solutions to life. The field of developing packaging solutions is constantly evolving and requires individuals who can come up with new and effective ideas to meet the changing needs of consumers and businesses.
Hence, having the right Packaging Engineer is vital as they have a strong understanding of materials, manufacturing processes, and product design, making an ultimate solution for you. They, being seasoned experts, come up with packaging solutions that are not only appealing in appearance but also functional, cost-effective, and environmentally friendly.
2. Experts Stick to Laws
Adhering to regulations and compliance guidelines in package labeling is crucial not only for ensuring consumer safety but also for safeguarding your brand from potential legal complications. Packaging Engineers responsibly uphold ethical standards and ensure that the packaging accurately represents the quality and quantity of the product without misleading customers.
3. Attention to Detail
A proficient packaging specialist comprehends the significance of paying attention to all the details throughout the process, as even a minor oversight can lead to packaging failure. Thus, meticulous attention to detail is crucial in ensuring the success of the packaging.
4. Great Technical Skills
For excellent solutions, make sure the Packaging Engineer you are choosing has proven technical experience. From the packaging form selected, through its intended product use. It is essential to have the necessary technical abilities to engineer and manufacture quality components, in order to achieve winning results.
5. Packaging Engineers Helps With Cost-Saving
Packaging engineers play a significant role in initiatives to reduce costs. While it's important to create packaging that is appropriate for its intended purpose, it's equally essential to design it in a way that reduces expenses. Given the increased competition in any industry, packaging is a critical component in determining a product's overall cost. There are always new innovations emerging that provide opportunities to enhance existing packaging. Therefore, packaging engineers consistently explore materials and techniques to incorporate into their upcoming projects. Companies are constantly seeking ways to minimize production costs, making the role of packaging engineers even more vital.
6. An Eye for Possible Errors With a Creative Touch
Packaging engineers possess strong problem-solving abilities and a creative mindset. They are responsible for resolving packaging-related issues that arise from various aspects, such as material expenses and manufacturing processes. To tackle these challenges, they even devise innovative and cost-efficient solutions in a timely manner.
In addition, being experienced, they are always able to create unique and attractive packaging solutions. Packaging plays a significant role in captivating customers' attention and influencing their purchasing decisions. Hence, any oversight in packaging design can lead to a product's failure.
Overall, packaging engineers must possess a combination of problem-solving and creative skills to craft better outcomes, as they are responsible for designing packaging that meets both functional and aesthetic requirements.
Who would benefit from Reaching a Packaging Engineer?
Any company planning to launch a new product and seeking to ensure that its packaging is of the highest quality and cost-effective, while also aligning with its corporate values, should consider bringing this expert on board.
It's highly recommended to consult with a packaging engineer expert during the initial stages of product development. By doing so, they can provide suggestions and assist in creating optimal packaging solutions. In addition, having an engineer involved from the start will simplify document management and help to ensure regulatory compliance.
Even small businesses can reap the rewards of having a packaging engineering consultant. While having a full-time team member may not be feasible at the moment, collaborating with a consultant can provide the same advantages without incurring the expense of a full-time salary.
Conclusion: Elevate Your Brand's Packaging With Us
Need expert advice on your packaging solutions? Trust us at BIG SKY PACKAGING to help your brand stand out with high-quality packaging that meets your standards and exceeds your expectations.
Why don't you reach us today to learn more about how we can glorify your brand's packaging game? We are all set to answer your queries!
We Are Your Trusted Partner for Unmatched Brand Packaging!