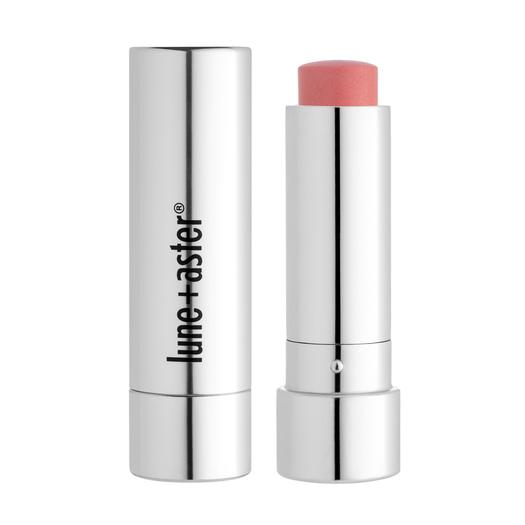 Lune+Aster | Tinted Lip Balm
Lune+Aster just launched a collection of tinted lip balms, and the story behind the name of each shade is incredibly inspiring. The brand, which was created by Bluemercury cofounder and CEO Marla Beck, partnered with six founders of women-focused organizations — Ariel Beck of Girls Who Start, Abigail Harrison of The Mars Generation, Ina Bhoopalam of Dream Equal, Valerie Weisler of The Validation Project, Haile Thomas of The HAPPY Org, and Judith Martinez of InHerShoes — to create new lip balm shades that correspond with the mission of each.
All six organizations are centered around a variety of causes, from encouraging girls to pursue careers in STEM to tackling gender inequality. The collection features buildable, vegan shades that are infused with hydrating ingredients, like vitamins C and E, and other good-for-you ingredients, like pomegranate peel and turmeric extract. Each one is meant to add a subtle pop of color to the lips, though they can also be used as multitasking products for the cheeks and eyes. Lune+Aster has also made donations to each of the organizations mentioned above.
Now about the product;
Product Details
This vegan tinted lip balm moisturizes while providing a sheer customizable flush of color for soft, smooth lips. The combination of antioxidant-rich vitamins C and E, organic pomegranate peel extract and turmeric extract helps to hydrate for nourished, supple lips. Because Lune+Aster is committed to empowering and supporting young women, we've partnered with six amazing young women who have started, and continue to run, women-centric foundations. Each Tinted Lip Balm shade is inspired by the specific missions of these six women and their foundations.
Ingredients
Vitamins C and E help to hydrate, repair and protect.
Organic pomegranate peel extract moisturizes and helps neutralize free radicals.
Turmeric extract soothes, and helps detoxify and exfoliate.
How to Use
Swipe on lips and go! Effortlessly customize by applying once for a sheer hint of color or add layers to build a richer color.
Contact BIG SKY PACKAGING today and see how we can help build your brand!
Focus on building your brand, not your packaging.