How to Pick the Right Packaging for Your Products?
Your product is great, and your exclusive packaging can act as a cherry on the cake. Find the apt packaging to make your brand unique.
The product, indeed, is what matters the most, but the packaging plays its magic too. Yes, the better the outer packaging, the more enthusiastic the receiver will be to unbox it.
With good packaging, you can induce your customers, justify your product's pricing, and play it as a trump card to win over your competition— and that's just the beginning of your brand's success. The suitable product packaging with the right blend of design or material will not only offer your consumers a pleasant unboxing experience but will also help you draw new consumers while holding on to current ones.
Also, good packaging can make or break your brand. Hence it is crucial to find appropriate yet classy packaging that makes your brand stand out.
How do you determine the suitable packaging for your products? In this blog, you will find all the answers but before that, let's look at the importance of packaging in business growth.
The Value of the Right Packaging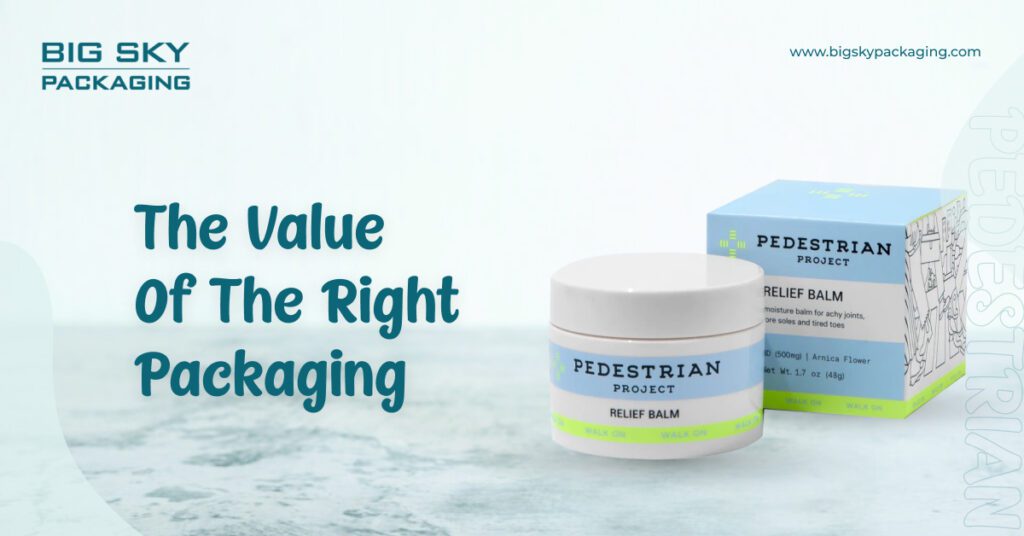 Your product's packaging is the first thing your customers will interact with, even before the actual product they ordered. It means your brand's first impression relies on your product's packaging.
And as we all know, "the first impression is the last impression", so make sure that the packaging you are choosing is aesthetically beautiful & functional according to your brand.
Besides, if the product looks more beautiful, more people will pick it for gifting. According to an Ipsos poll, 81% of consumers, when buying gifts, choose products based on their packaging design.
It suggests how important the external packaging of the product is. So why stay behind when choosing captivating packaging can help you become everyone's top choice?
Here are the factors you can consider while choosing exterior packet designs for your products.
Factors to Consider While Choosing the Right Product Packaging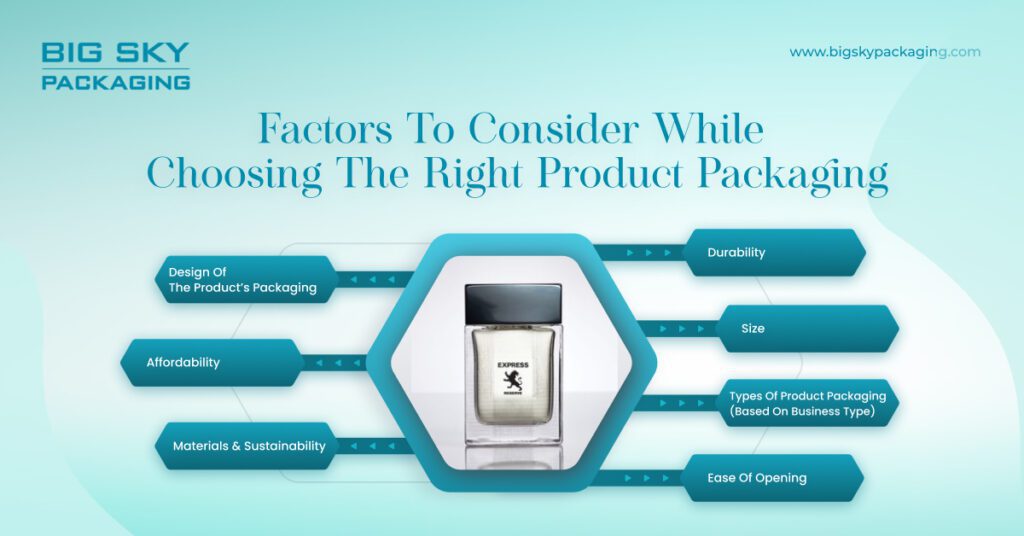 Design of the Product's Packaging
While designing the packaging for your products, you must answer this one question.
What is the product, and who's going to buy it?
Find answers to questions such as who will be utilizing the product: men, women, or both? Or is it going to be used by youngsters or grown-ups? Or are the people going to pick products belonging to high-class, royal families?
Putting potential customers in mind throughout your design process will help you accomplish overall victory with the package design.
Like if the products are for older adults, you can add warm colors, build a feeling of coziness, or put messages in larger text for their clear visibility. Alternatively, for affluent customers, you can choose colors that demonstrate a more sophisticated look and create a sense of luxury.
Budgeting is crucial not only for the bigger decisions of the business but also while choosing the packaging of your products.
You must neither go for an option just because it is expensive nor choose only because it is cheap. But find the middle way, and select the one that fits your products' needs the most.
Be mindful that choosing the wrong packaging option might increase your expenses in the long run, as picking an ineffective packaging solution can lead to product damage, bringing your sales down tremendously.
Materials & Sustainability
Based on an Ipsos poll conducted, around 67% of consumers choose a brand based on the material type they use for packaging purposes. So choose a material that is not only great in impression but is also of good quality.
A range of materials can be utilized for the packaging of the products. Finding the one packaging type for your product box mostly depends on what you're selling and how you are going to use your packaging in your marketing endeavors.
You can also choose eco-friendly products and be legally compliant with logistics and shipping laws and regulations. It is another engaging factor for today's youth, who are more environmentally conscious these days!
Your product reaching your customers safely and securely is one of your responsibilities. Think this way: the packing is excellent in appearance, but if someone receives the damaged product, you will already lose that customer or maybe a few more due to bad word-of-mouth marketing. Plus, in this era of social media, frustrated customers may post pictures of the damaged products they receive, ruining your brand's reputation.
So all these reasons are convincing enough to think twice while selecting a packaging type that is both attractive and sturdy.
There are two reasons why size is a critical aspect when finding the packing for your products: Safety & Cost.
Safety – Picking the packaging engineered specifically to the product's size ensures the product reaches the consumer safely. It is because using an extra-large box will make a spacious room inside the container that will enable the products to move throughout shipments, damaging the merchandise in the end.
Cost – If a box of extra-large size is used for delivering small items, it may lead to an added cost to the business. Why waste both money and packaging material when the work can be done by choosing the right packaging size every time, according to the size of the products?
Types of Product Packaging (Based on Business Type)
A top-quality custom box will offer an excellent experience for your customer, making you stay on top of their minds and boosting repeat purchases, in turn enhancing your sales. Like if you are into making miniature perfumes, set boxes explicitly engineered to your product dimensions can be ideal for secure delivery to your consumers.
No matter what your product is, the packaging must always be easy to open. There's nothing more irritating to a consumer than trying to open a box that is packed in a complex way. So make sure the unboxing process is always seamless.
Pro Tip: Look at What your Competitors are Doing
To better compete in the business world, you must know what your competitors are doing. You don't have to copy them for sure, but you can take the reference and come up with solutions that are more appealing and unique based on your business requirements. Just make sure, in the middle of all, your brand's message is communicated to your audience well with any packaging style or design you put on the shelf.
Wrap-Up Thoughts
Hope you have reviewed all aspects of the selection options and come up with a workable plan that keeps you on the top in your demographic.
Still in a dilemma?
We at Big Sky Packaging can help you get turn-key packaging solutions based on your brand needs. Trust our dynamic team; we promise you the most iconic packaging solutions for your business, making you steal the show.
Attract Attention with Exquisite Packaging!