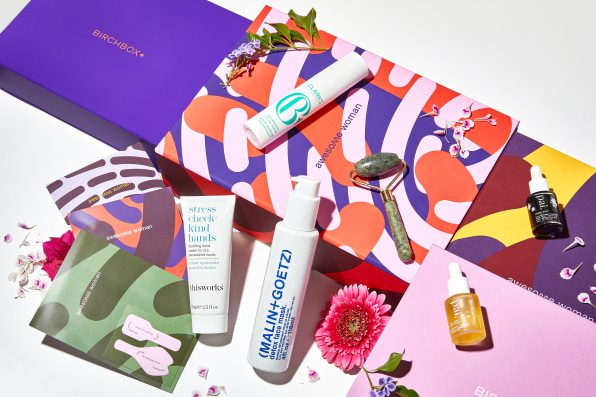 BIRCHBOX'S NEW CHAPTER
For a decade, we've known Birchbox as a beauty brand that delivers samples in pretty boxes. But its recent $45 million acquisition by FemTec Health, a new female-focused startup, marks a major turning point for the company.
FemTec was founded in 2020 by Kimon Angelides, a doctor who wanted to improve women's healthcare with the help of technology like AI and genomics. It raised $38 million in funding from companies like Walgreens and Unilever Ventures at a valuation of $380 million. FemTec launched publicly in October 2021, and expects to serve women across many dimensions. It will launch Awesome Woman, a telehealth platform to help women navigate complex healthcare issues, from pregnancy to menopause, and sell a direct-to-consumer supplement brand.
To get a sense of how the brands will collaborate and weave together beauty, wellness, and technology, they shared details about their first three boxes. This week, they released a $129 Birchbox Meets Awesome Woman kit, which will be delivered in three Birchbox-style boxes. The first box will contain a skin-test tool commonly used in medical trials to help customers identify their skin type. Then, after they input data about their skin, they will receive two more boxes that contain products curated by Birchbox, along with supplements from Awesome Woman tailored to their skin.
This kit won't replace the monthly Birchbox, but it will be marketed to Birchbox's subscribers, as well as through Awesome Woman. Beauchamp says it's just the tip of the iceberg, and there will be more high-tech health and beauty experiences to come.
Contact BIG SKY PACKAGING and see how we can help build your brand.
Focus on building your brand, not your packaging.