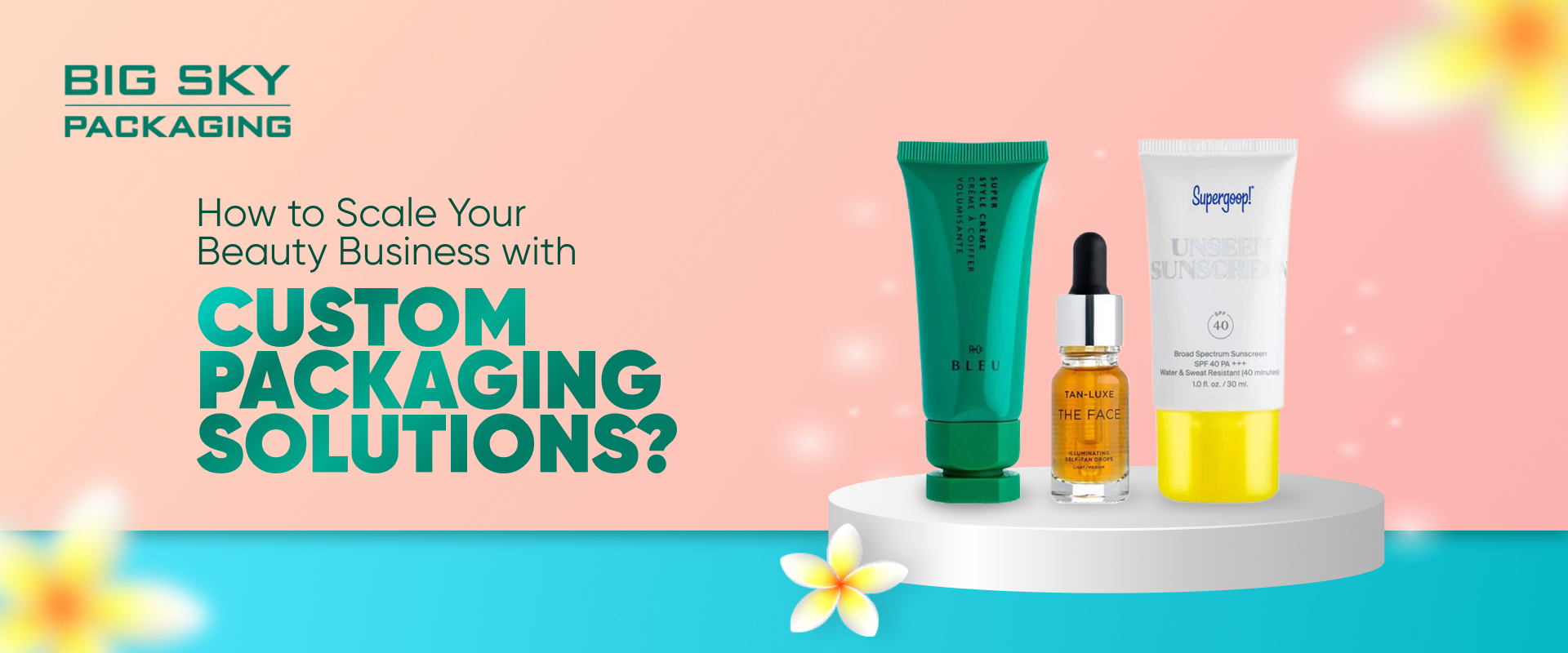 How to Scale Your Beauty Business with Custom Packaging Solutions?
Scale up or make your beauty business stand out with custom packaging solutions. Let's dive in to learn the tips!
Creating a remarkable unboxing experience for your audience is crucial nowadays, especially with the viral trend of people sharing unboxing videos on social media. A report shows that around 40% of customers share photographs of products over social media if they arrive in exceptional, creative, and mind-boggling packaging. Many businesses, regardless of their size and industry, are leaning towards unique or custom packaging solutions for the same reason.
So, keeping outer design spectacular helps brands increase their reach and acquire faithful consumers who are pleased to buy again & again. Based on stats mentioned by Packaging Of The World, 30% of businesses report a boost in profit just by offering matchless product packing.
Thinking about how businesses can elevate their brand using custom packaging options? Here are the hacks to follow, but before that, let's have a quick look at what custom packaging is…
About Custom Packaging
The word custom says it all; it is about something tailored to specific business needs. Similarly, custom packaging means no one-size-fits-all packaging but a unique solution based on the business needs as well as the target audience.
It is not wrong to say that custom-tailored packaging is a must-have for businesses as it is one of the first things customers see when the products arrive at their door. It nurtures a remarkable memory of the product and lays the framework for building brand loyalty.
Custom packaging is an ideal substitute for standard packaging solutions for businesses willing to create a bright first appearance for the audience. It is no less than an extension of a brand by boosting the unboxing occurrence with tailored colors, text, and designs.
Power of Custom Packaging in the Beauty Industry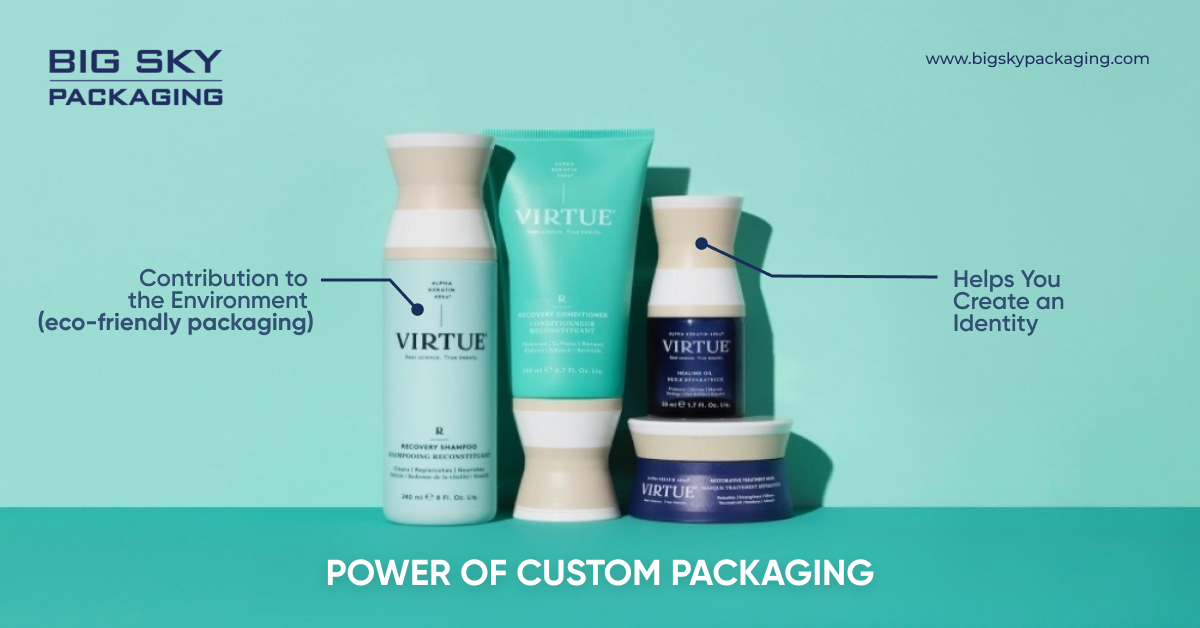 Increased sales are all you want in your business, but you might be looking for ways to improve the same. Quality is one for sure, but leaving the best first impression on customers is also essential. Your custom packaging does that well. According to a study by IPSOS, 72% Of American consumers make purchasing decisions by getting influenced by the product's packaging.
Of course, it is the foremost thing the beauty die-hards are going to see with whom you are trying to build a bond. Hence, if you send away the products through a more appealing message and design, you win more customers.
So, while choosing packaging solutions, ensure that your customized stock packaging captures their attention and convinces them to take your product home and try it.

Helps You Create an Identity
Following a personalized theme for your products effectively attracts the audience and helps you make your brand stand out and seem unique amid the crowd.
Think this way, if any customer receives your shipment and it is nothing like they have ever caught before, wouldn't it tempt them? An elegant custom box with the brand's logo and compelling message will always make a deeper impact.
If that is the sort of impression your brands want to make, following any unique custom pattern for packaging for your products can be treating your customer's eyes. The fascinating packaging of the product not only entices customers for a moment but also keeps you on their favorite list.
Picking Eco-Friendly Packaging & Contributing to the Environment
IBM recently conducted a survey and revealed that near about 59% of consumers happily pay more for brands that are socially responsible. The stats suggest that if you are delivering shipments in eco-conscious packaging, you are not only contributing to the environment but also intriguing the buyers.
Tips to Scale Your Business with Custom Packaging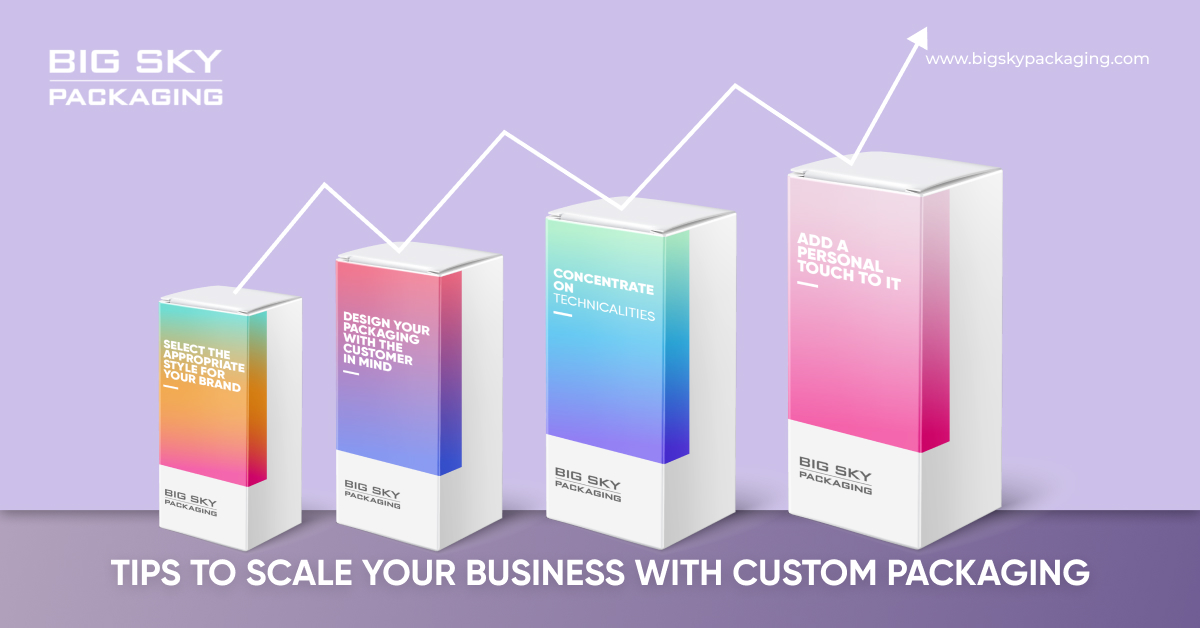 The first step goes as you need to pick a design or packaging style that meets your product type. For suitable packaging, you must better analyze it before making the decision.
Questions you can brainstorm on:
What sort of product are you selling?
What text do you want your customers to read first while receiving your product?
Which size of packaging suits your products for the sake of safety?
All such questions will help you select the appropriate style for your brand that will amuse your customers too.
Design Your Packaging with the Customer in Mind

Considering your target audience in every company decision you make is not something to say. Hence it goes precisely the same when determining custom packaging for your products.
Pinpoint what your ideal customers are looking for; you can also research what your competitors are doing. Check what can go well for your products, like a cutting-edge approach, traditional layout, or maybe eco-conscious boxes.
For example, if you are a brand offering organic cosmetics, then eco-friendly packaging suits you perfectly.
All in all, comprehending your consumer base and their interests will assist you in picking your new packaging solutions. Don't forget to emphasize what makes you outrun your competition.
Concentrate on Technicalities
Sure your packaging must look good and winning, but it must also be functional enough. Make sure the packaging type you are choosing is ready to deliver the products safely, without any damage, to the customers.
Ensure the selected material sufficiently protects the product inside. You can also focus on the size of the box based on the dimensions of the products. Because if the packaging fits the product rightly, the safety level increases.
Add a Personal Touch to It
The best part about custom packaging is nothing like a ready-made, same-for-all packets. They are easy to design based on your brand's needs. You can add a personal touch by making your product customer-oriented. For instance:
You can write the customer's name on the outer packaging
Can mention a cheerful message (not same for all), etc.
This will make your customers feel bonded with you from the very first order!
Find Right Partner for Your Packaging Needs
Now you ought to find the right partner for you who not only understand your needs but is also well-versed in the industry.
Experience matters the most. Must check whether they have experience in curating solutions for your industry before. The more experience they have, the more they know what solutions could be the best fit for your brand. Also, they can make suggestions based on your business needs; like what best you can do in terms of packaging to enhance your sales.
Most companies out there claim to be the best. But how will you determine? Why not learn from the experiences of others? Read the reviews by previous clients to better understand what sort of company you should invest your time and money in.

Takeaway Thoughts
Whether to go with custom or personalized packaging or not is genuinely a big business decision to make. But following the stated tips can be a transforming step for your brand. If you are sending your products in visually-pleasing packets, you are halfway there to increase your customer base.
We at Big Sky Packaging believe in offering quality packaging solutions while keeping your budget in mind. Apart from the beauty industry, we also serve skincare, fragrance, hair care, and plenty more sectors. From professional service & support to creative solutions, you can count on us for all your needs.
Have queries to ask us? Reach us at +1-212-620-3100; we are happy to assist you.
Make Your Beauty Brand Bigger With Us!